Another semester has begun and what's on your mind? You're looking ahead to final's week. Some, very few of you, are thinking about the exams themselves and how to prepare, but the majority of you are thinking about your plans for after finals.
The winter break can be a nice time off from school, but what do you do for those 2 or 3 weeks? Sure you plan on going home to visit the folks for a week, but then what? Sit on the couch and knock out a few seasons of Breaking Bad on Netflix? How about a nice road trip to the beach? Or maybe spend your new year's eve out on the town? There are a lot of great deals out there to help college students enjoy time away from school and celebrate the winter break.
So take a break from your home work and look at some of the following winter break ideas so you can start planning your trip.
The first stop on this winter break road trip is Colorado! There's nothing "cooler" than taking a group of friends to the Rocky Mountains for a little skiing and snowboarding action. In Colorado you can hit the slopes as a beginner or as a mountain master.
One of the most popular destinations in Colorado is Breckenridge. It may be because they have over 2,000 acres of skiable area. Or maybe it's because they host some pretty sweet ski deals. This year they have some sweet 6 day/5 night stays, including daily happy hours and lift passes, beginning around $270 a person. Breckenridge is also a short drive from Vail and many other well known ski resorts in the snow packed Rockies.
Other states like New Mexico and Utah are also home to popular ski resorts.
Next stop- the beach! That's right, the warm sand of places like Florida and California. The off season of the beach is the winter time, not because
it's freezing cold, because it's typically not, but because everyone thinks it's cold. Places like Miami and the Florida Keys average around 75 or 80°F during the winter.
After finals there is nothing better to do than to relax and soak up the sun. During the winter at a beach, you'll be able to enjoy a little more peace and quite than during the summer. But, because these beach towns thrive on summer tourism they will still have the night life you're looking for to celebrate those straight A's you got.
Another plus to beach combing during the winter, the price. You can land a great deal at almost any hotel or resort along the coast. Using Expedia.com, I was able to find a 3 Star hotel on the beach in Miami for 5 days/4 nights for only $160 a person (for 4 people)! That's almost $250 cheaper than during your average summer week.
If you really got a good deal selling your textbooks back, you could even consider catching a plane over to Hawaii.
The last stop on this road trip will be to ring in the new year, and there are two places that come to a college student's mind, New York City and Las Vegas. There's no place better to party and celebrate than these two. The only thing separating them is price. If you're on a tighter budget, then Las Vegas is for you (it's much easier to find package deals and cheap hotel rooms). However, if you've got money to spend, then New York is calling your name.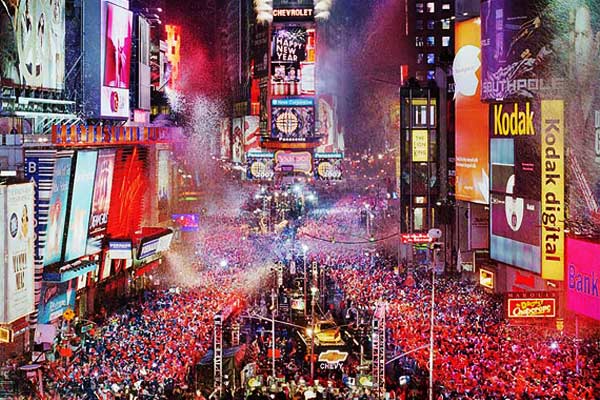 New York is your classic New Year's Eve destination (plus it'll make for a great road trip). There's no place more romantic, no place more American, to ring in the new year than Time's Square at 11:59pm. Thousands and thousands of people from all over the world migrate to this place each year to watch the ball drop and celebrate another year in the record books.
If you're going to host the nation's largest new year celebration, then you need to have a few places for all of those people to party right? Well New York is on top of that. Right there in Time's Square you can find a number of clubs and bars that will be home to your night of celebration and the first few hours of your new year. And since these places will be in competition to get as many of the new year party people, they will likely have great drink specials. Perfect!
Now although Las Vegas doesn't have Time's Square to ring in the new year, they do have the strip, which is home to many a casino, aka lots of fun. One great thing about Las Vegas is that even if you don't drop a single penny in the slot machines, you're still bound to have fun. Inside each casino there are a number of shops and restaurants as well as plenty of bars and nightclubs, all of which are in walking distance. Even though New York has new year's eve parties, Las Vegas has a leg up because they have parties every day, all day!
How ever you choose to ring in the new year, be sure to plan early and book early. Not only will you get more options on where you can stay, but you'll likely get a much more affordable deal than if you wait until a month before.
So what are you waiting for, pick up your phone and call your friends to begin planning your winter ski trip or new year's eve adventure.